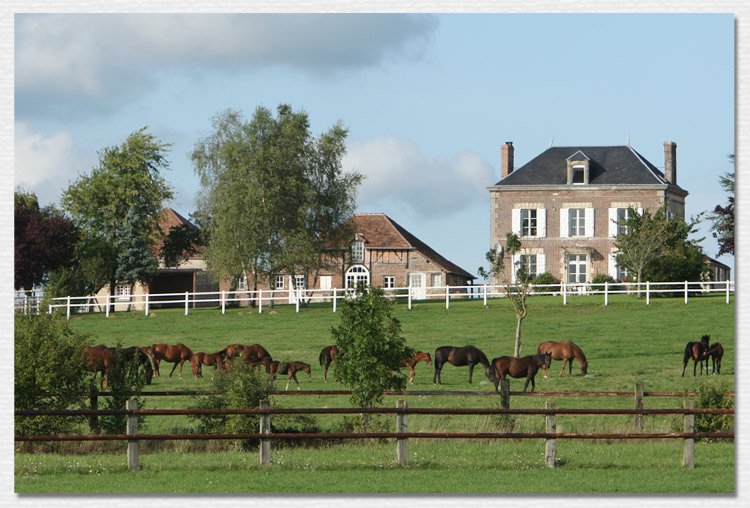 The history of our stud reflects the career path of its founder, Éric Lhermite.

Through the years, he has taken on every role in the management and organisation of a stud farm, from night watchman to groom, from stable lad to management in the major international stud farms.
In the course of a twenty-year career, he has worked and learned at the "De Roiville", D'Omméel", "Du Buff", "Du Mezeray" and "D'Etreham" studs, his knowledge and understanding as a horseman and hands-on operator growing with each new role, along with his judgement and personal satisfaction as a rider.

Éric's breeding experience is broad, ranging from birth to the specific needs of each horse at every stage of its life. Boarders are guaranteed an individualised care plan and treatment that ensures the best possible outcome for each and every horse.

His sales experience is equally broad, and includes experience of international sales: you can be sure of his awareness and competence within the various sites, and of his perfect knowledge of the various actors operating in these places.

Éric and Isabelle Lhermite first established the Haras de Grandcamp identity in 2004, when they set up their first stud close to the Poite du Hoc in the Calvados department. Having found their current premises in 2006, they quickly realised the potential of its location and ease of access.
This farm had historically already operated as a stud, and witnessed the birth of some remarkable horses, including the now well-known French trotter "Tipouf" and winning thoroughbred stallion "Blackdoun".

The stud under our ownership now houses some thirty thoroughbred mares owned by a number of different owners, and their first foals are distinguishing themselves at the highest levels- for example "Molly Malone", winner of the Prix du Cadran Group 1.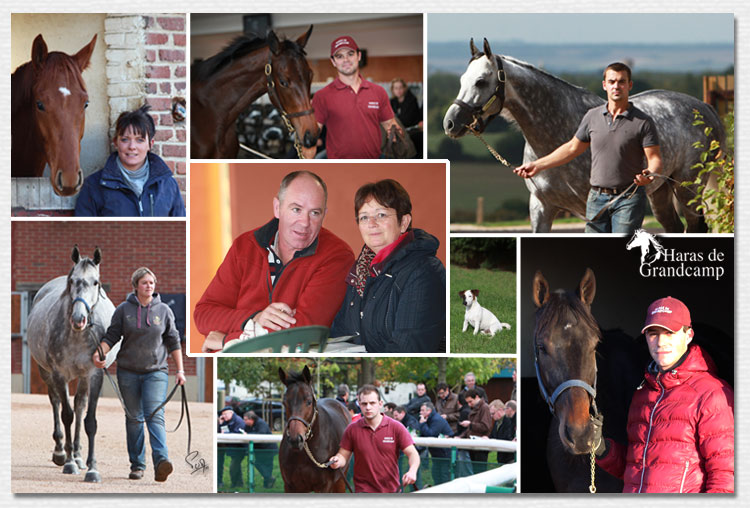 Our team is young, dynamic and always on the quest for perfection.

Alongside Éric Lhermite, who manages the stud and marketing, are his nearest and dearest: his wife Isabelle, in change of all things secretarial and administrative; and their children Gaël and Sarah, along with their respective partners, Johanna and Romain.
This is the nucleus of "Team Grandcamp", a close-knit, family-based team in which every member is rider, horseman and multipurpose operative, able to perfom any of the jobs in the company.

The team is completed by full-time employees Gregory and Mathieu. The team is swelled by other people as and when required, during the breeding season or when preparing for a sale. The stud also retains the services of a farrier.

For more specialist requirements, the Haras de Grandcamp works in synergy with external service providers: most important of these is our enthusiastic and effective veterinary team, along with an osteopath and an equine dentist.

Under the management of Éric Lhermite, the Haras de Grandcamp has grown a pragmatic team, always on the search for excellence in the care of "its" horses, devoted to them at any hour of the day and night, and putting the horses' needs above its own.

This is a close-knit team combining experience, youth, and enthusiasm, where every team-mate knows and respects everyone else and in which the buzzwords are discretion, service and efficiency.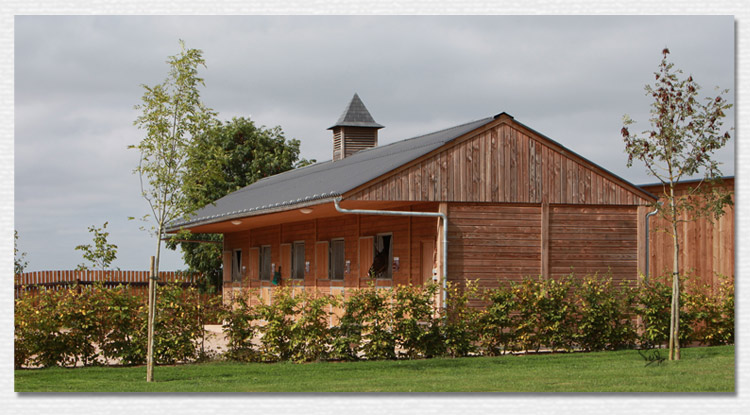 The stud includes some sixty hectares of meadows spread over two slopes of a hill and around the farm buildings.

The meadows are on a variety of soil types, enabling the stud farm to achieve the best possible year-round use of the natural resources. Soil quality is regularly analysed in order to ensure the balance required in rearing horses.
The land unfolds in gentle natural slopes, perfect for encouraging harmonious muscular development of foals, and is enclosed with wooden stock fencing to ensure safety. The healthy and calm environment of the Haras de Grandcamp, and its glorious views, all contribute to the wellbeing of our horses.

Our farm does not produce its own hay, in order not to overcrop the meadows and to better control feed quality. The stud's meadows, fences and buildings are all maintained in-house thanks to the skills and knowledge of its staff, and its available range of equipment.

There are 62 units in our stable blocks, arranged around a central courtyard angled towards the south-east. These are grouped into three barns, one of which is reserved for stallions, along with a group of individual stables
These three blocks operate autonomously, for the greatest calm and comfort of each horse. The blocks are laid out in such as that each horse can see its fellows, in order to retain the companionship of the herd.
We have four foaling units, which are spacious and fitted with CCTV. Brood mares are placed under lamps to prepare them for breeding from mid-December.

In the Summer, our stables are ventilated to ensure the comfort of our boarders.
The stud has a special foal exercise track, a treadmill, a lunging ring and a six-horse automated exerciser.

These are the skills, and human and material assets that the Haras de Grandcamp uses in the care of your horses, whether for a short stay or for year-round livery. We guarantee that the care given to your horses will be the best possible, dispensed conscientiously and devotedly, always mindful of the end result.



| | |
| --- | --- |
| | |